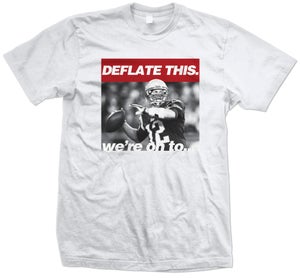 $

15.00 - On Sale
After the Patriots 45 - 7 overwhelming win over the colts Accusations the the New England Patriots had been playing with altered balls. Colts Defensive back D'Qwell Jackson originally was thought to point out the deflated balls.
In Thursday's Press Conference Bill Belichick Stone walled reports in epic fashion denying any knowledge of having deflated balls.
Tom Brady, further denied any wrong doings, detailing specifically how he likes his balls to be handled prior to games. And denying any knowledge of what happens to his balls prior to the game.
Moral of the story, It's two weeks out from the Superbowl, they need to report on something. Life on top is not easy.
Tweet